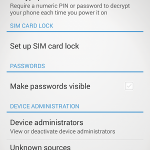 Did you know that even if you have reset an old phone to factory settings before selling it on that your data is still most likely accessible on it? This means that someone with your old phone might have contact information, photos and other very important details concerning you and your family and friends. This is resolved pretty easily by using phone encryption. If you want to know how and why you should enable this on your phone then read on.
Encrypting your phone
Nearly all modern phones are capable of encrypting your data. It will mean that you have to put up with a mildly annoying screenlock, however you should have this on already anyway. Phones are ultimately portable, and they contain a huge amount of information about you. Ergo they are easy to lose and make it really easy for somebody to steal your identity if found by the wrong person. Why not take a minute to enable that screen lock and cloud based phone wiping service? I'll remind you to do it at the end of the article.
Once you have a screen lock as your first layer of security then you can look to encrypt your phone this will protect your data from falling into the wrong hands and I have put some sample steps below for common devices. When it comes to selling your phone on then it still isn't enough to simply reset it to factory settings. To be absolutely sure it is clean we recommend that you do the following:
Reset your phone to factory settings using the manufacturers approved method.
Set an arbitrary screen lock (not the same as before) and encrypt the device again
Reset your phone to factory settings again.
After doing this it will be much, much harder for someone to access your data. Here are some steps to encrypt common devices, but make sure that you backup your device and data first:
Please note that we cannot be responsible for the content on sites that we link to, however if you spot a broken or erroneous link then please do get in touch and we will fix it straight away. richard@fireflyits.com
A word of warning, or two
When you encrypt your phone make sure that you tick the box to encrypt your SD card too. If there isn't an option to do this then the SD card will likely remain unencrypted and accessible by everybody, so don't give that away with your old phone. The chances are it will only contain photos and music, but hang on to it destroy it to ensure that it is gone for good.
Encryption can also slow down your device a little, so when wondering whether to spend a bit more and get a more powerful phone always go for the fastest that you can afford.