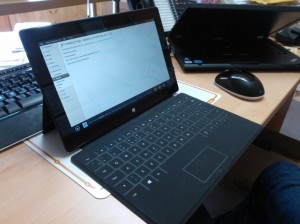 Welcome to the Firefly review of the new Microsoft Surface RT tablet. We've had them for 24 hours so far and are still discovering things about them, however I thought that this would be a good time to let you know how things are going. We are looking at them as useful business and productivity tools, rather than as simply browsing or gaming devices. The good news is that the Surface has exceeded our expectations in almost every way, sure there are some bugs and things that need improving, but it is an amazing product made even more so when you consider that it is a new operating system on new hardware. Oh, we also own and use iPads on a regular basis and we paid for all of them out of our own money, so we have no particular axe to grind in this write-up. Read on to find out how we are getting on.
This entire review has been written on the Surface and it says something for it that I didn't have any particular issues with the Touch Cover that I am typing it on. It is a bit harder on the fingers than a normal keyboard, but it is much easier than typing directly onto a screen and I was pretty much upto speed after a few minutes of typing. The keys are well spaced and textured, so they are easy enough to find. It is also very nice to have directional arrows, delete as well as backspace and the tab key right there to use. This makes web browsing and form entry much more rapid than simply having the touch screen alone. The keyboard also fits very nicely onto the screen and is more than secure enough for the intended purpose. Once you get used to the idea that you have multiple ways of moving around any given screen i.e. keyboard, touchpad or just touch (you know, poking the screen) progress becomes very rapid indeed.
The screen quality is very good, with pictures, movies and text being crisp and clear. I have seen a lot of people bemoan the "low" resolution display, but at 1366×768 it is as good as many larger screen laptops. It isn't a retina display like on the latest iPad, however this was one of the worst selling iPads of all time, so I don't see it being an issue. It certainly doesn't look like a poor resolution when you are using it.
The other area that gets slammed is that of the apps, but I don't think that this will be an issue for most users. It also has the advantage that it will share apps with Windows 8 so more will be coming along very quickly as its sales pick up speed (an upgrade is only £24.99 including VAT!) Microsoft do after all have the lion's share of the desktop OS market. The apps that are currently available are well crafted and fast. Out of the box the Surface only supports one twitter account, but I downloaded Tweetro which will handle multiples for when I need them. Netflix and Skype are already present and useful, working very effectively.
The cameras are fairly low quality, but using them is very straightforward and they are good enough for Skype calls. If you want to take a photo of something then perhaps you should be using your phone, or you know, a camera!? I saw a lady in Trafalgar Square a couple of weeks ago trying to taking a picture of the lion statues with an iPad and I couldn't see the point. I used my Lumia 800 which was much easier to hold up…
The version of Microsoft Office that comes with the Surface is the Home and Student edition, however if you want to use it for business this will allegedly be ok as long as you have a legitimate regular Office 2013 license. I say allegedly as  couldn't find an official Microsoft comment, only a quoted one.
As for other aspects of the Surface, it is very fast responding to input, with no noticeable lag. The multitasking is efficient and effective, being able to switch between working apps with a swipe of the screen. It also has a USB port as well as a MicroSD slot and a micro HDMI port. If you want any of these on an iPad you will have to buy an adapter. When I first turned the Surface on I spent some time setting it up just how I like it and found that it had quite happily connected to my Wi-Fi printer without me having to do anything. I printed something to it really easily and it even popped up to tell me the printer was low on ink.
Sharing documents is super easy via skydrive or USB. The Surface will also connect to your existing Homegroup to share files if you want it to.
Items that are noticeably missing at the moment include the BBC iPlayer app, but to be honest this is the most complete tablet I've ever had out of the box. I am very impressed with the IE10 browser that it is running and in quite a few places I haven't been worried about a missing app as I've been able to easily use the available features on the vendors web page instead. A good example of this is the Training Peaks website.
With all that said I have sold my old iPad for a decent sum with Orange and have pre-ordered an iPad mini, but this will be kept exclusively at home for use by the family for browsing the internet and playing kids games.
Conclusion
The Surface is an outstanding first tablet from Microsoft. It certainly doesn't feel like a first generation device and it integrates well with other devices on your system without having to spend extra money. The sound quality from the speakers is on a par with other premium tablets and the build quality is impressive, whether it looks as good as new after two years, like my iPad, only time will tell. If you want a device that will comfortably replace your laptop (for general business use) and your notepad (you know, the thing you write on with a pen) then the Surface is definitely worth a look. The combination of inputs makes content creation as well as content use very easy and as the Windows 8 marketplace grows the number of apps will enable it to compete in other arenas with the premium competition. The  worst thing about it is that the touch keyboard looks like it will attract stains and may show wear, particularly from greasy fingers due to the type of material it is made from. Time will tell and I'll post an update in a few weeks, currently it looks pristine though.